Managing increasingly scarce water supplies is one of the most challenging issues of our time, especially in the arid western United States.
Water is crucial to maintaining the health of communities, rivers and wildlife, and nothing is more important to producing food for the world's growing population.
However, access to data on water consumed by crops and other natural landscapes — one of the largest components of the water budget — has been limited and expensive, keeping it out of the hands of most farmers and decision-makers.
OpenET aims to fill this major gap and accelerate innovation and conservation in water management by providing consistent, easily accessible satellite-based data on this water consumption for 17 western states.
What is OpenET?
OpenET is a web application that uses best available science and publicly available satellite and weather station data to estimate field-level water consumption at daily, monthly and yearly intervals. It will launch in 2021.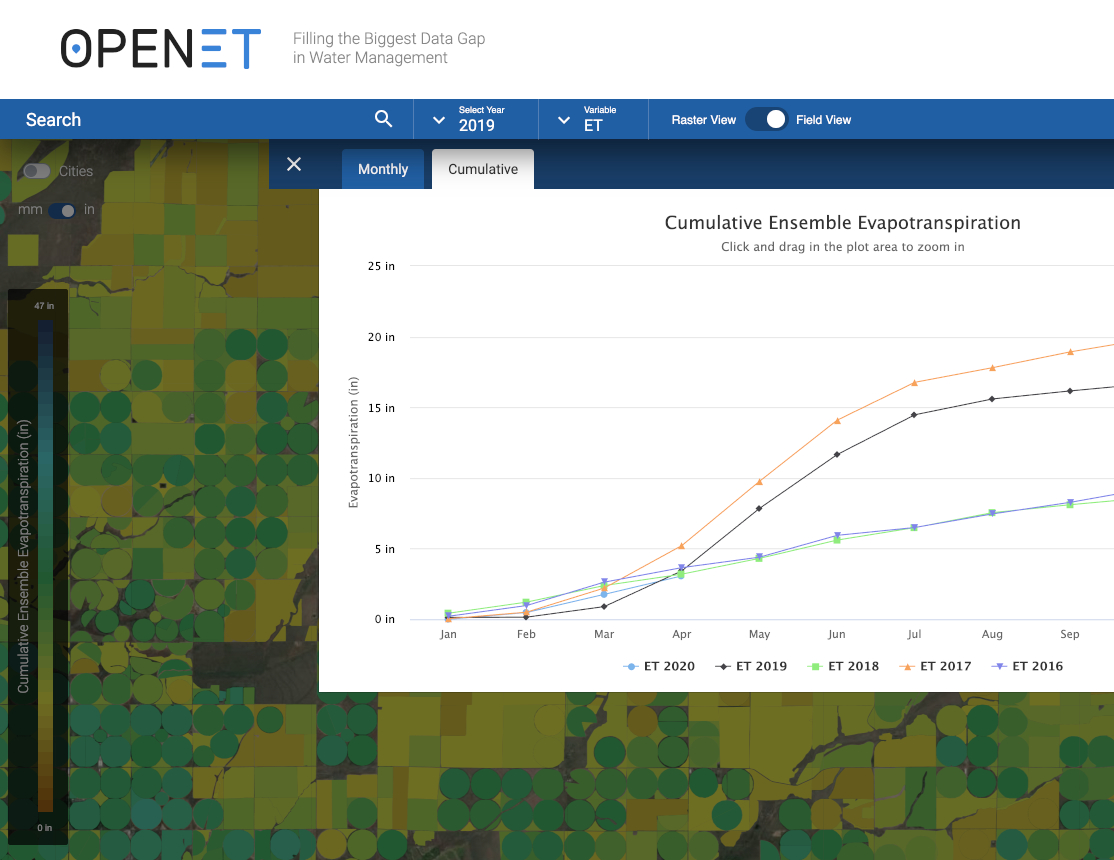 Like other EDF efforts using technological innovation to drive environmental change, OpenET is about turning data into action. For the first time, OpenET will bring together several commonly used models for estimating water consumed by crops and other vegetation onto one single, widely accessible online platform. This will enable collaboration and spark more innovative solutions to address water challenges across the western United States.
Applications of OpenET data include:
Informing irrigation management and scheduling practices to maximize "crop per drop" and reduce costs for water and fertilizer.
Enabling water and land managers to develop more accurate water budgets and innovative management programs that promote adequate water supplies for agriculture, people and ecosystems.
Supporting groundwater management, water trading and conservation programs that protect the economic viability of agriculture across the West.
The "ET" in OpenET stands for evapotranspiration — the process by which water evaporates from the land surface and transpires from plants. ET is a key component in the water cycle. Satellites that measure surface temperatures can help track ET because plants and soils cool down as water evaporates and transpires, so areas with increased ET will appear cooler in satellite images.
An unprecedented collaboration for "game-changing" technology
OpenET is being led by Environmental Defense Fund, NASA, the Desert Research Institute and web developer Habitat Seven, with in-kind support from Google Earth Engine.
The project has brought together leading scientists in satellite-based water estimates and more than 100 growers, ranchers and water managers across the West to create a user-friendly platform. Additional project partners include the U.S. Geological Survey (USGS), U.S. Department of Agriculture (USDA), California State University Monterey Bay, University of Idaho, University of Maryland, University of Nebraska-Lincoln, and University of Wisconsin-Madison.
"OpenET represents a game-changing leap forward for water management in the West," says Delta Watermaster Michael George, of California, who is among the stakeholders that have provided feedback on the development of OpenET.
OpenET takes advantage of technology and computing power that was unavailable just five years ago, while also building on two decades of research supported by NASA, the National Oceanic and Atmospheric Administration, USGS, USDA and others.
Because the OpenET project has brought together a team of leading experts on several approaches for measuring water use, I'm confident it will become the de facto source of water data among landowners and water managers alike.

Eric Averett

General Manager, Rosedale-Rio Bravo Water Storage District (California)
The project has received funding from the NASA Applied Sciences Program Western Water Applications Office, S. D. Bechtel, Jr. Foundation, Gordon and Betty Moore Foundation, Walton Family Foundation, Water Funder Initiative, Lyda Hill Philanthropies, Delta Water Agencies, and the Windward Fund. In-kind support has been provided by Google Earth Engine and partners in the agricultural and water management communities.
By making critical water data more widely available across the Western United States, OpenET will help build more resilient water supplies for people and nature for generations to come.